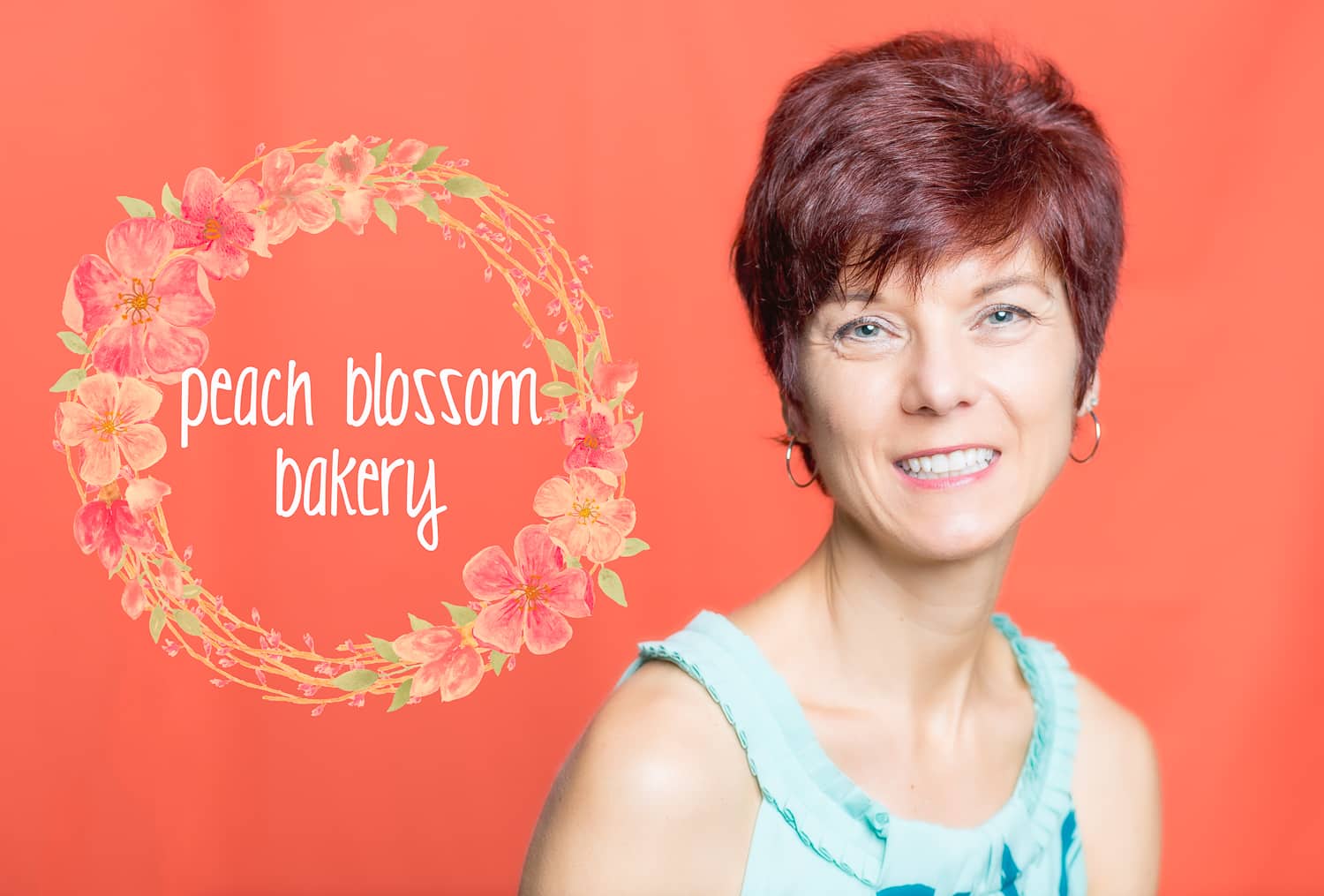 If you have been following this blog for the past couple of weeks, I've kicked off a series to highlight women who, like me, have decided to "do something new" in their 40's or 50's. This could be a major career change, learning a skill, writing a book…the stories are as unique as the women themselves and I am excited to bring them to you. This week I'd like you to get to know Susan Block. She is the owner of Peach Blossom Bakery and truly talented at what she does. I hope you will be inspired through her journey and mine that it is never too late to try something new!
Q: Tell me about yourself.
A: I have been married for 25 years to my amazing husband Rob and have three children: Veronica, 20, Daphne, 17 and Harrison, 14. We have lived in Georgia for almost seven years after moving here from Michigan, where both Rob and I are from originally. I have a Bachelor's degree in Marketing and a Master's degree in Organizational Management. In my spare time I like gardening, reading, scrapbooking, cooking and hanging out with my family. I enjoyed running, until I hurt my back, and am now considering race-walking so I can continue a competitive sport. When we retire, Rob and I hope to downsize our house and try living in the city for a while.
Q: What did you do in your first act?
A: After I graduated from the University of Michigan, I went to work for Electronic Data Systems on the Cadillac account. About a year later, Rob and I got married and he was transferred to Arizona. I got a job at Micro-Rel, a subsidiary of Medtronic, as a training supervisor (I had been involved in training at EDS). My supervisor was a very inspirational woman who truly believed in cross training her employees and preparing them to replace her. I worked a variety of jobs including production floor supervisor, motivational trainer and production planner. After Veronica was born, I juggled working full time with being a new mother for about six months. After some serious soul searching, Rob and I decided to move back to MI to be closer to all of our family, and I began my new job as a stay at home mom.
Q: What led you to what you are doing today?
A: Once all of my kids were in school I knew I wanted to do some type of work for myself. I loved being the preschool VP, annual room mom, leader of the competition math team, sponsor of my kids' Destination Imagination team, but I felt driven to do something I had more control over. While we lived in Michigan, I started a custom framing company and enjoyed running my own small, hobby type business. It gave me the flexibility I wanted as well as a creative outlet. So at first, having my own business was mainly about gaining my own independence.
Once we settled the family in Georgia with Rob's new job, the small business bug bit me again. This time I put more thought into what I really was passionate about and where I had skills. I always loved cooking and been complimented on my abilities. I knew many families in my neighborhood where dinner was mostly take-out or the same five meals served over and over. I started a small dinner/catering business, Dinners by Susan, so my neighbors could have easy access to home cooked meals during the week.
Peach Blossom Bakery was created almost by accident. I was catering a bridal shower and we were brainstorming for party favors. I did some research online and saw some heart shaped cookies that were decorated as brides and grooms. I thought this was a really cute idea and that I had the skills to recreate these cookies. I recruited my girls and we set to work baking up some flowers to practice decorating. Our cookies spread all over the baking sheet and become unrecognizable shapes, and we decorated with very stiff icing squirted from sandwich baggies. We had so much fun and were so proud of our work (although they really looked awful). The ironic thing about this is of the three of us, my cookies were by far the "hottest mess." Still, I was hooked on the concept of creating beauty out of butter, sugar and eggs. I decided to stop selling meal and catering to focus full time on baking. Peach Blossom Bakery was born.
Q: What are your goals? Are there specific goals you want to achieve or do you do this purely for the satisfaction it brings?
A: I didn't start out with a business plan because I wasn't sure if could really turn a hobby into a business. At first my goal was to bring in enough orders to keep myself busy, but not get stressed out, and make enough to cover my expenses. My current goals are to continue expanding my menu. I started out with just cookies and then added cakepops, which had a very steep learning curve. I was requested to offer gluten free products and after many practice recipes, have developed cookies and cakes that have received good reviews. I am lucky to have so many kind neighbors who sample all my test products and give me feedback. My newest addition is cakes which open up a whole new world of opportunity. As my reputation with new customers is growing, I am looking forward to actually start making a little profit to put away for retirement travel.
Q: What have you learned through the process of reinventing yourself?
A: Sometimes things you think will be easy or uncomplicated, are not! Trying to officially start a business was one of the most frustrating things I have ever done. Every article I read told me something different and everyone I spoke to on the phone just gave me another phone number to call. This was truly the hardest part for me. I knew I had a good product and people would be interested in it, but getting through the red tape of starting the business had me doubting myself every day. Believing in yourself is essential. Also, don't take anything as common knowledge. I have had some crazy mis-orders due to miscommunication. "I want to order 60" didn't mean 60 cookies, it meant $60 worth of cookies.
Q: What advice do you have for other women who are considering a change?
A: For me, I did not have any monetary requirements for starting the business. At first, as long as I wasn't losing money, I was happy. If you are changing directions in order to make a living, you need to have a pretty good nest egg saved up. I have been in business for a little over two years, and I am just starting to see that things are picking up with sales to new customers. Also to know that some days are lonely and frustrating when there is nobody else there to do the "dirty work," take the blame for a bad decision or help out when you have overextended yourself. On the flip side, nothing can be more satisfying than to have people compliment you on your creativity and workmanship.
Q: How have you dealt with obstacles or setbacks?
A: One of the best side benefits of having my own business is to be an example for my kids. They have seen me be frustrated, scared and tired, but I always go back and get the job done. Not every problem has an exact answer and sometimes you need to approach it from 7 different directions. Keeping in mind that I am a role model for my kids helps put even the craziest days in perspective. I have learned that personal contacts can be so much more helpful than looking on the Internet. Almost everyone wants to lend a helping hand when they can, and "pay it forward" is a real thing.
Q: Would you do it all again?
A: Absolutely! People contact me to help them celebrate fantastic things in their lives- graduations, engagements, baby showers, birthdays, team spirit. Being able to share in these milestones is truly inspirational to me.