author
Amy Lyle: Author, Comedienne, and Screenwriter
The Amy Binegar-Kimmes-Lyle Book of Failures
When Amy approached me about her idea for a "Book of Failures," I was intrigued. We met for lunch and she told me about all of the absurd ways she wanted to bring her brand to life that involved toilet paper and dresses tucked up in her underwear. I mean, how fun does that sound?
But truly, I was most intrigued by the idea that a 40+ woman, like myself, would write about her failures for all of the world to see. Plus, she didn't come from a writing career. She was pursuing her dreams by writing a screenplay and subsequent book because it was something she always wanted to do.
Stories like this are so inspiring to me and I know that it inspires other women who have been thinking they want to do something different but aren't sure where to start. Let's get started and learn more about Amy Lyle's journey in this latest #mommaquitherdayjob feature.
Q: Tell me about yourself.
A: I grew up in Marietta, Ohio, which is in the thick of the Appalachian region. It has been suggested that it is an area filled with people that are uneducated, partial to moonshine and prone to acts of violence and I don't disagree. However, I think if you go fifty miles outside of any major city, you'll most likely find a similar crowd, people trying to persevere.
I love literature, films and people that celebrate survival. It's extraordinary when people turn the most humiliating and tragic aspects of their lives into something that helps other people.
My husband, Peter, and I live in North Georgia and are raising four teenagers.
Q: What did you do for your first act?
A: I spent 15 years working in the staffing industry in sales, management and eventually as a corporate sales trainer in the Atlanta area.
Q: What led to what you are doing today?
A: Today, I am a comedienne, screenwriter, and author. My family and I attend a large non-denominational church with an amazing children's program and through my kid's encouragement, I auditioned for an on-going, comedic role. A few years into the role, I inquired about contributing as a writer. Writing hundreds of mini-comedic plays gave me the bug to do larger projects.​
For my film, my girlfriends are my source of inspiration. I am so fortunate to be surrounded by amazing, accomplished and hilarious women. Regardless if they are working and raising a family, stay-at-home-moms or empty-nesters, women have common threads of managing relationships and trying to raise their children the best they can. The film is a comedic twist on how working moms and stay-at-home moms have such set perceptions of one another.
My book was inspired by 45 years of my own personal disasters, and a handful of borrowed failures from friends and family.
Q: What are your goals? Are there specific goals you want to achieve or do you do this purely for the satisfaction it brings?
A: As a sales person, I would have to forecast what deals would be closing for the next quarter including, specific companies, sales volume, and revenue predictions. At the time I called it "crystal ball sales projections," because how in the world would anyone know what they will be closing in the future? Now I appreciate the exercise: thinking about your goals forces you to have a plan and builds accountability.
I have very specific targets for marketing my film. I would like to align with director/producers that have had success with female-centric comedies such as Judd Apatow (Bridesmaids), Paul Feig (Ghostbusters, The Heat), Elizabeth Banks (Pitch Perfect) or Ben Falcone (The Boss, Spy). I have an A, B, C, D and even E list of targets!
I'm self-publishing my book, The Amy Binegar-Kimmes-Lyle Book of Failures through Amazon. A super ridiculous dream come true goal would be on Amazon's bestsellers list for comedy memoirs for even one minute. If I have just one review that says, "This book made me feel better about my own failures," or "It made me smile," I'll be happy.
The journey of creating something original, in any form, is rewarding in itself. There are millions of unpublished books, unproduced films and unread poetry in the world, but that doesn't make the work unimportant. The journey is rewarding​.
Q: What have you learned through the process of reinventing yourself?
A: Creativity is subjective. I learned this invaluable lesson from my content editor, Rodney Henson. You should seek wise counsel for content and structural editing if you are doing a creative project, nonetheless, it's your content. If you feel strongly about something specific, push back.​
In the process of marketing a film/book, you are forced to go through content editors and directors, press coverage editors plus hundreds of gatekeepers and assistants, whom all have opinions about your work. Select a few, trusted friends, hire a recommended editor and keep moving forward. If you get stuck in the circle of making everyone happy, you'll never complete your project.​
I have learned that almost everyone on the planet has a creative side and seeks to share at least a piece of their lives with others.​
Q: What advice do you have for other women who are considering a change?
A: Regardless of how you pitch your project, be prepared to receive a whirlwind of "NO!" Make people tell you no in person! Email is "easier" because you are looking at a "NO!" on a screen rather than hearing it over the phone or in person. But a person can't really capture your personality on email, give yourself an advantage over the other thousands of submissions and start by calling the publisher/producer/director's office. Research who you are calling, start with why you like their work and ask for a meeting or the right to submit your project.
Ask for help! No one will give you anything, but if you are sincere and friendly, you may get help. My girlfriend Marjorie, introduced me to Rodney Henson, my content editor. Rodney introduced me to an entertainment attorney. The attorney introduced me to a film press coverage professional. The press coverage woman is a Second City comedienne who went to film school with some heavy hitting producers and directors. Most people want to help you, but they will not if you don't ask them.</p>
<p>Create a budget, and then be prepared to triple it. If you are serious about getting your work published/film produced you will need editors for content and grammar, photographers and designers to do your book cover, head shots, etc. Additional expenses to enter film/book contests, fees to attend film/book markets/festivals and for MARKETING. Even if you self-publish or have an independent film, budget to promote your work at a minimum through social media (Facebook and Twitter sell ads) and through Google and Amazon. Take advantage of the free advice on YouTube regarding navigating the world of self-publishing or film production.
There is an insatiable need for content. Find a topic you are interested in and start a blog, search online for freelance writing positions or volunteer for a publisher or at a film studio. Getting immersed in an area you are interested in, even on a part-time basis will help you learn the business.​
Q: How have you dealt with obstacles or setbacks?
A: I originally worked on a film for over a year with a friend when it was revealed that we had completely different ideas about the direction of the project. We had respect for one another's ideas so we agreed to disagree and work on our own projects. I wouldn't trade the experience for anything, the time spent on the "wasted" material only further defined what I wanted to do on my own.​
Q: Would you do it all again?
A: YES!​
You can purchase your own copy of the The Amy Binegar-Kimmes-Lyle Book of Failures on Amazon.
Update: Her follow up to The Amy Binegar-Kimmes-Lyle Book of Failures "We're all a Mess. It's Ok!" is available now on Amazon as well!!
Visit Amy's Website.
---
About Andrea
Andrea is a personal branding photographer who helps female entrepreneurs, and small business owners bring their brand to life. She is based in Cumming, Georgia but you can find her shooting from coast to coast.
---
Q: Tell me about yourself
A: I have been married for 36 years to my husband John and together we have two children. Nicolette, 21, a college senior and Tyler, 14, a high school sophomore. We currently have 2 rescued pets named Frankie and Puppy. Plus a grandson dog named Odin that Nicolette rescued after he was abandoned on the highway. Throughout the years our home has been filled with many rescue pets including horses, ducks, turtles, snakes, lizards, and more. I love the outdoors and go hiking every morning. I also love to garden and I love rocks. Yes rocks. Rocks are a passion of mine and I absolutely love collecting them wherever we travel or simply in my back yard.
I studied Computer Sciences at Dekalb Technical College in Georgia earning a Technical College degree. During my career, I have never used my computer degree. Early on, I was more attracted to the public relations and community relations side of business.
I am a native of Santa Clara, Cuba and arrived in the United States at the age of 3 with my family. We left Cuba because of the economic and social climate in the country. I am bilingual (Spanish & English) and this has helped me throughout my career.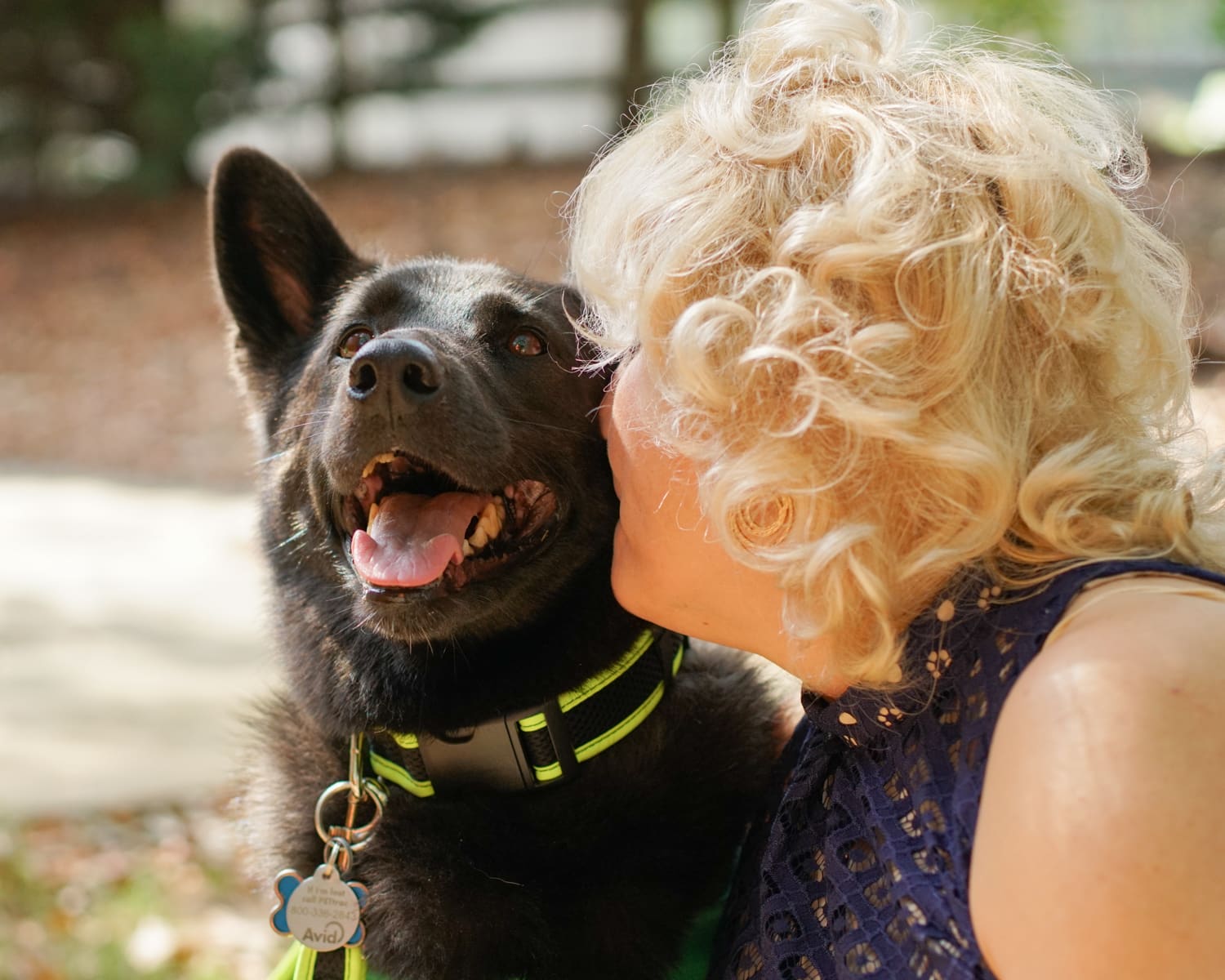 Q: What did you do for your first act?
A: For over 25 years, I have been the co-owner with my husband, John, of Clean-Tech Commercial Cleaning Service. We started the company together and have continued to jointly manage it. Prior to owning Clean-Tech, I worked as the Financial Director for The Coca-Cola Foundation and The Coca-Cola Company's Corporate Giving Department. I spent 13 years at Coca-Cola where I started as a secretary in the Media Relations Department. I excelled in my work at Coca-Cola and was promoted to management within the Media Relations, Community Relations, and External Affairs departments. However, I had an entrepreneurial spirit and always wanted to own my own business. John also had the same goal so we decided to establish Clean-Tech.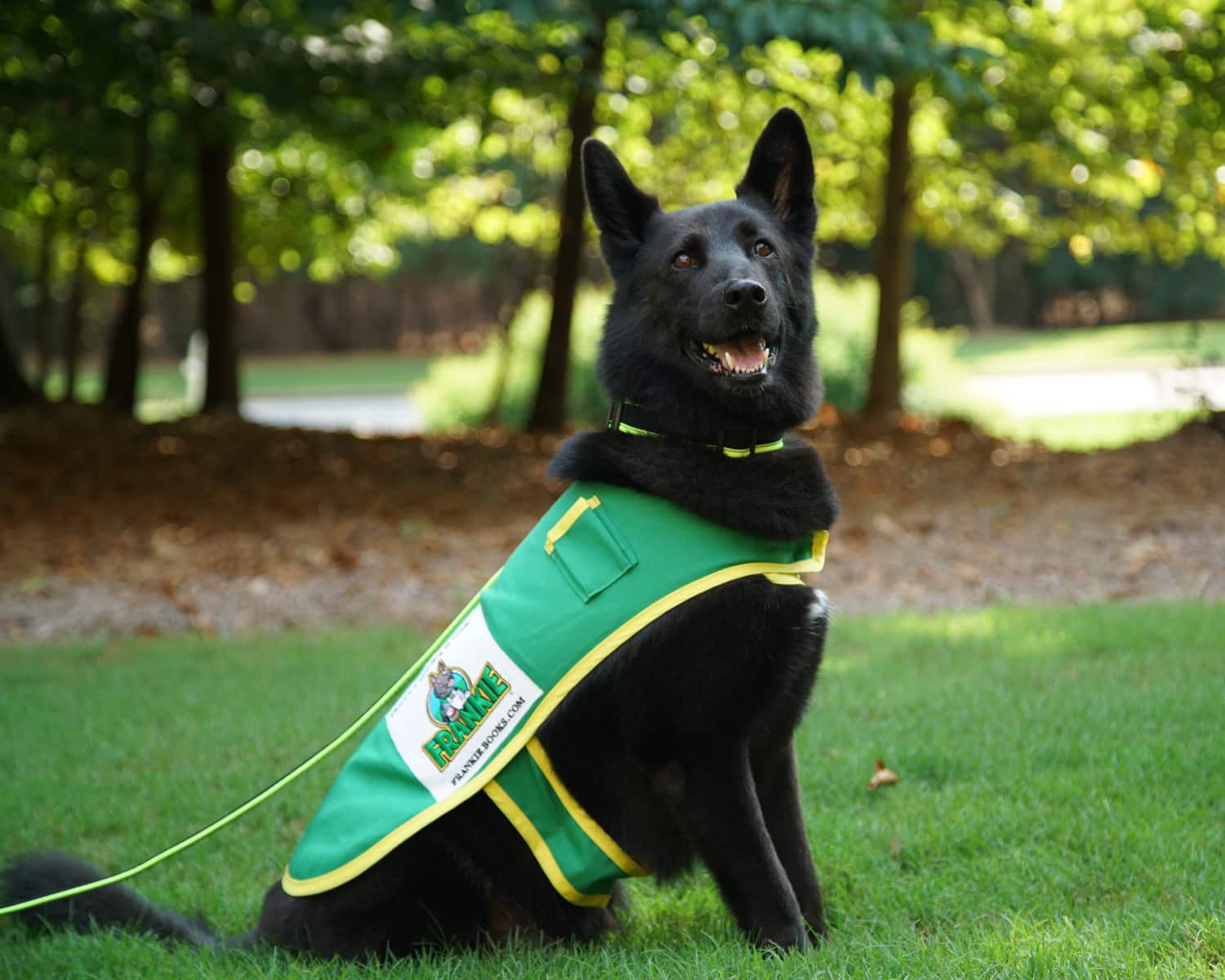 Q: What led you to what you are doing today?
A: I found myself at a crossroads when Nicolette went to College and Tyler was older. I needed something different and it all came together when we adopted our family dog, Frankie.
Frankie, a Belgian Malinois, was returned many times to the shelter. No one wanted him. They said he was too active, he jumped too high and even too scary. But the truth was that Frankie was not scary he was the one that was scared. His life story touched me very deeply. I kept wondering why are shelters still so full and why are more pets not getting adopted. I kept seeing the "sad" commercials on television and was aware of the many pet adoption shelters. But, I felt something more had to be done. I decided I had found my next act, and I would do something about it. I thought what is the best way to solve any problem is – you get to the root of it! Children are the root!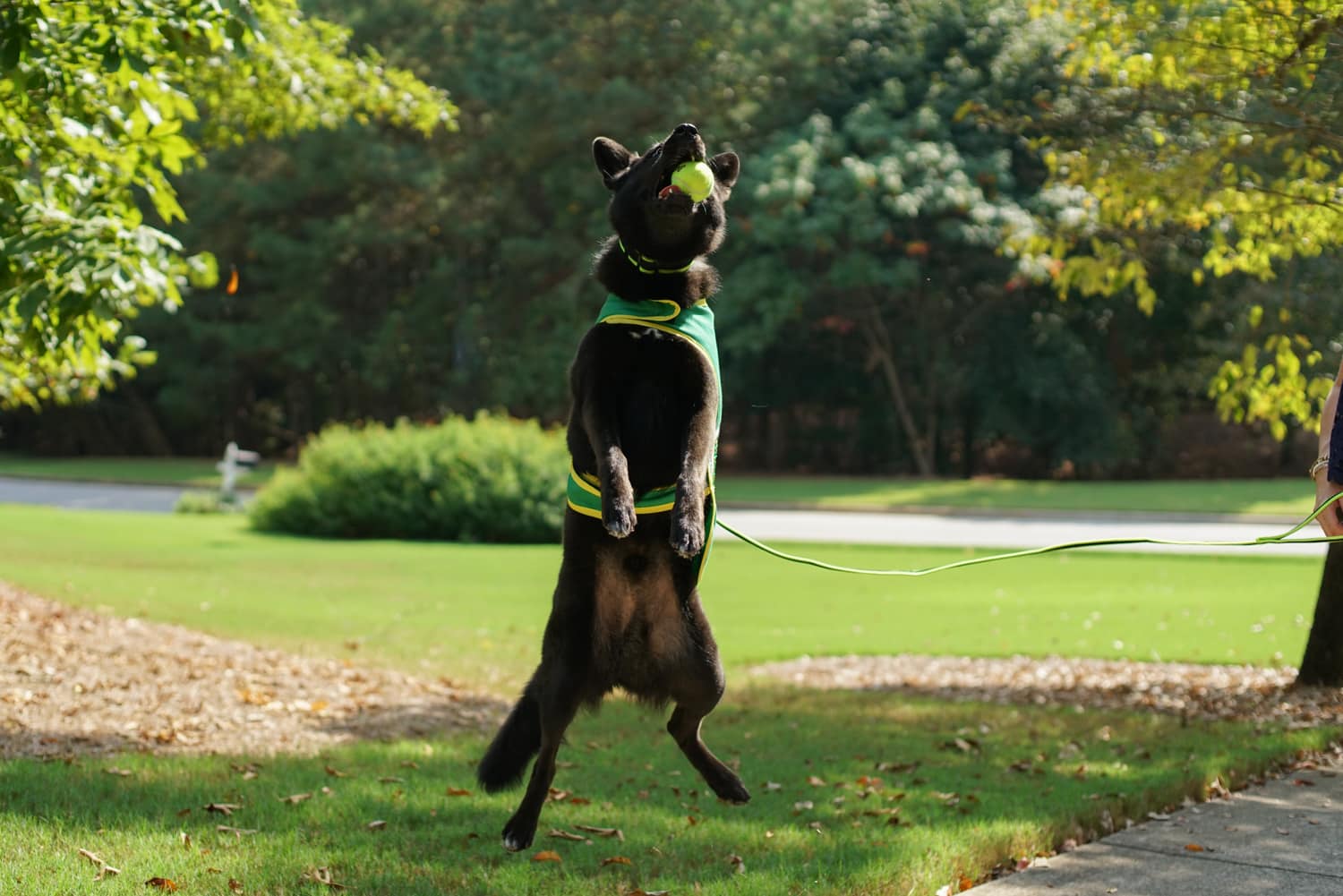 In January 2015, Frankie the Dog Group was born. I created a lovable, adventurous character named Frankie the Dog and wrote a children's book, Frankie Finds His Family, to teach children about the importance of pet rescue and adoption. I wanted to do this in a very positive, happy way that would get the children excited about pet rescue and adoption. The first book was very successful.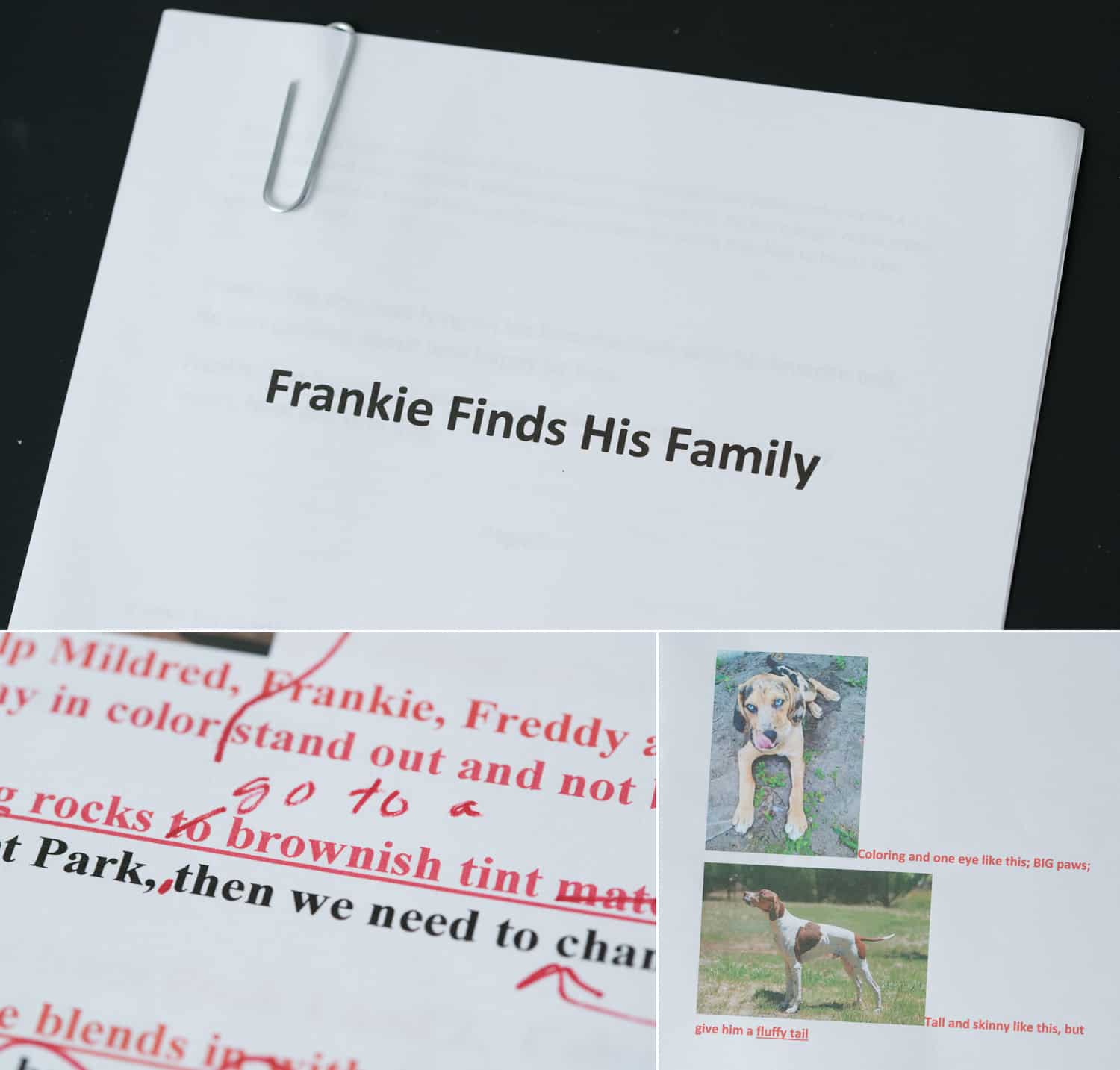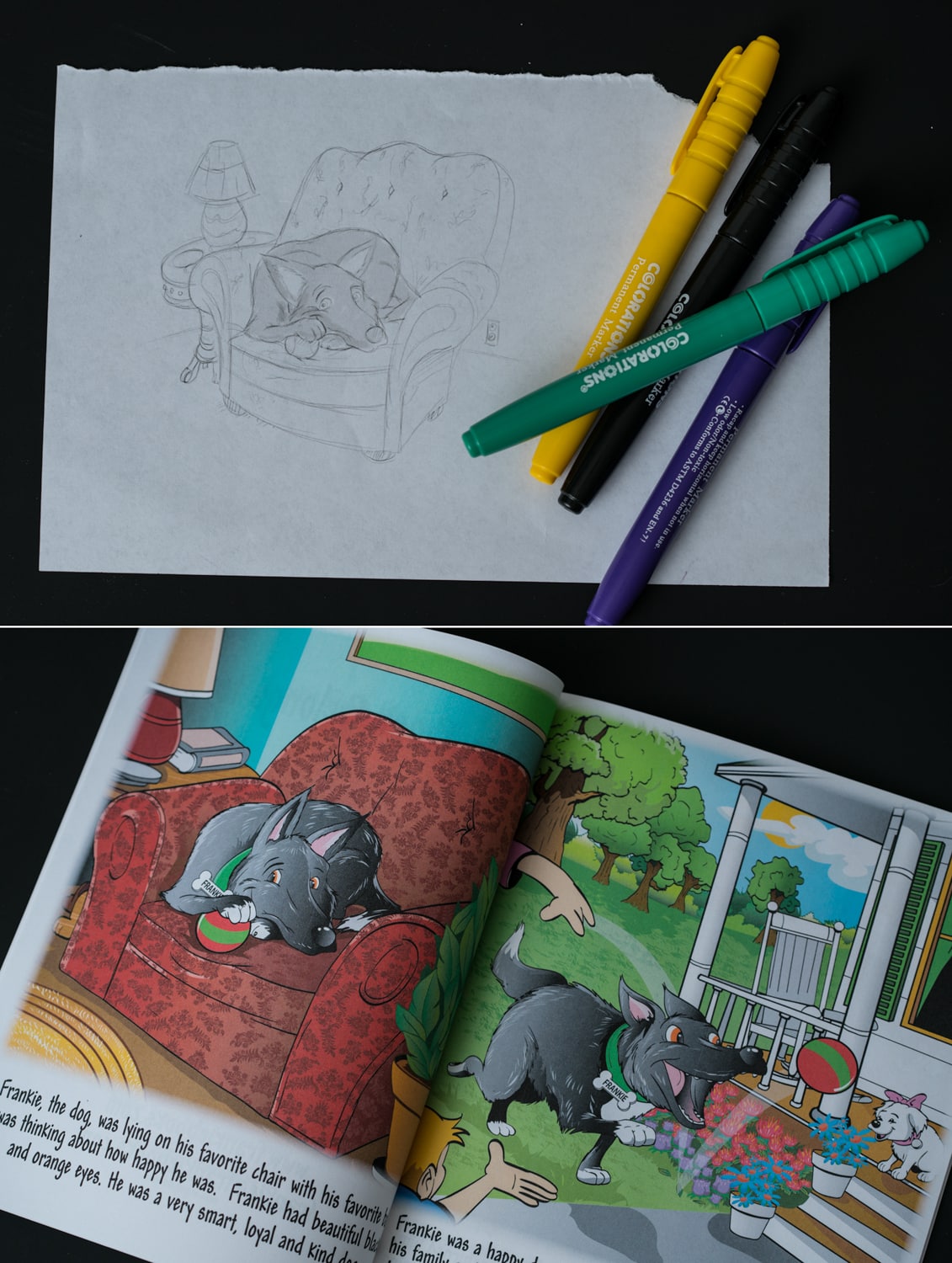 Building on that success, I created the Frankie the Dog Website, Frankie Gear, Frankie Dance, and Frankie's "Interactive" Party. It was necessary to also give Frankie the Dog a social media presence so I enlisted my husband John's help with Facebook, Twitter, Instagram and Pinterest.
Then I wrote a second book, Frankie's Christmas Surprise. Frankie the Dog and his friend Freddy the Ferret travel on exciting adventures to rescue pets and find a loving home for them.
Marie found that the children relate to Frankie the Dog and are able to understand his message:
Pet Adoption First! Fill your life with Love.
Q: What are your goals? Are there specific goals you want to achieve or do you do this purely for the satisfaction it brings?
A: I am a goal oriented person and I am always thinking ahead. Following the success of Frankie the Dog, I realized I needed to expand Frankie's reach on a national level. I decided to take Frankie the Dog national with a brand marketing campaign to make Frankie the Dog the National Ambassador for Pet Rescue & Adoption.
I asked John to join the company as the Marketing Director and we met with several marketing firms to see what a National Campaign of this level would entail. We decided that to run a national campaign I needed to launch an Indiegogo Crowdfunding Campaign with a goal of $20,000. The Crowdfunding Campaign was launched on October 4, 2016 and is highly anticipated by Frankie the Dog's followers.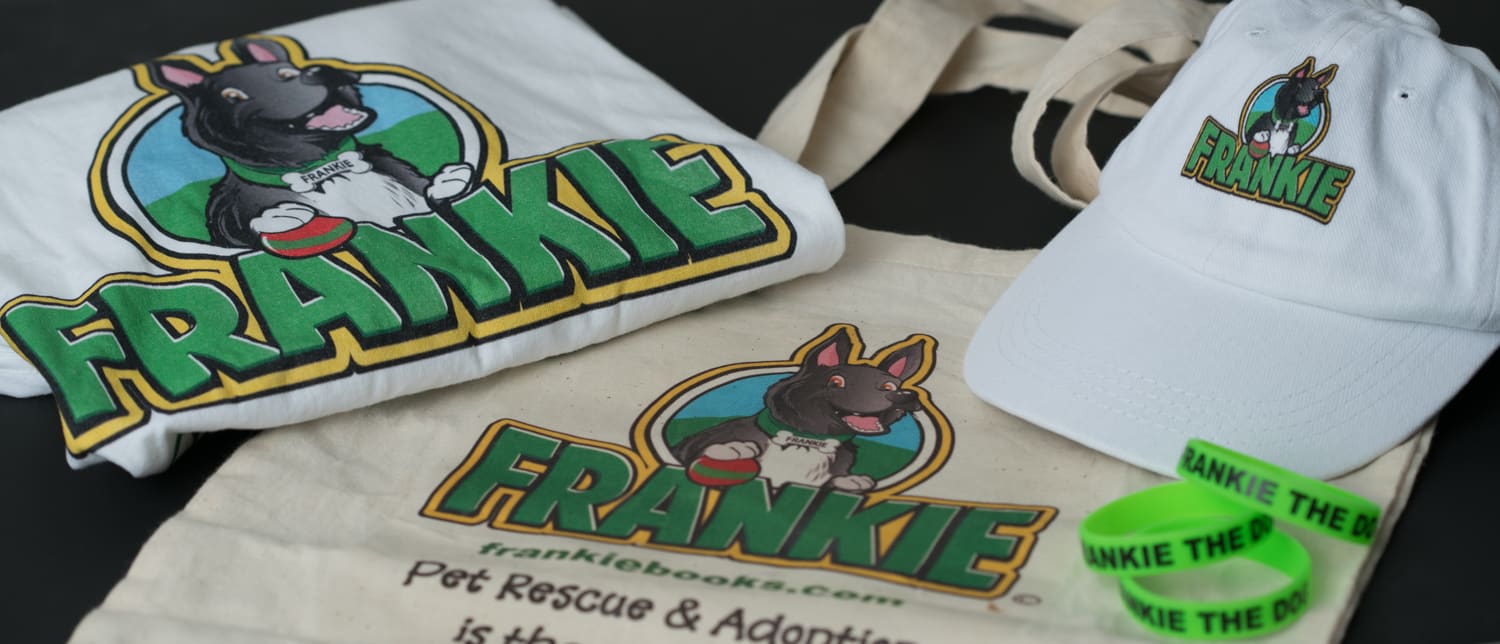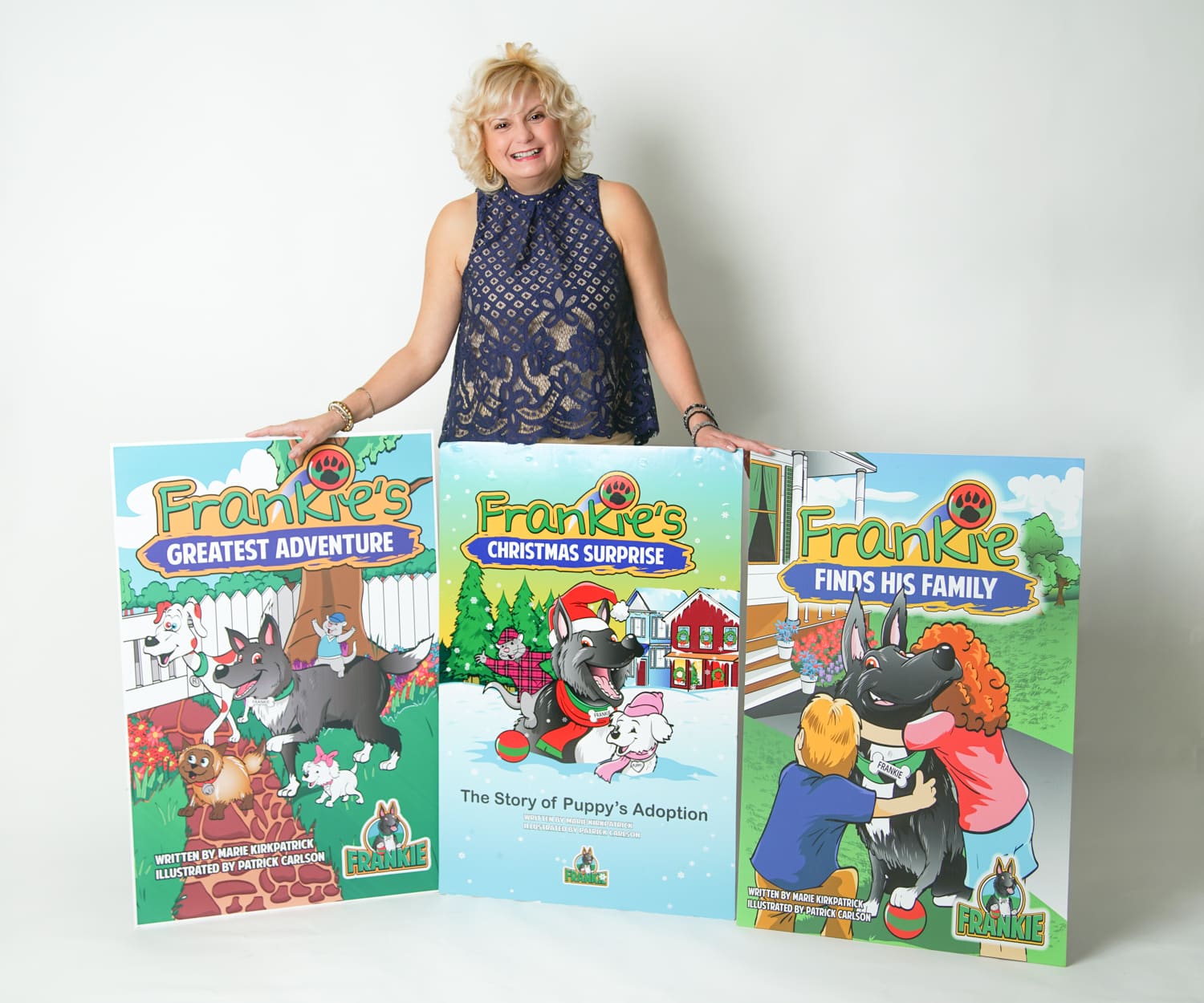 To continue with the expansion of the Frankie the Dog Group, I have written a third book, Frankie's Greatest Adventure that will be launched in November. To create additional support for Pet Rescue & Adoption, Marie held a contest for a family's rescue pet to make a cameo appearance in Frankie the Dog's third book. It was so successful that Frankie's Great Adventure will include several rescued pets.
Q: What have you learned through the process of reinventing yourself?
A: Even at this time in my life when many people are taking it easy, I have learned that one idea coupled with a lot of hard work, a lot of family support can become a reality. I am encouraged daily by the many people who support my vision that educating children is how to make a difference in the lives of the more than 7.6 million animals that enter shelters each year. And it gives me great hope that we will no longer have 2.7 million animals euthanized on an annual basis.
I have truly learned that I am absolutely blessed to have such a wonderful family and great group of friends who go out of their way to support me.
Q: What advice do you have for other women who are considering a change?
A: The main advice is to not be afraid – don't let fear dictate your life – go ahead take a chance. Take one step at a time and you will be amazed at the many things you can accomplish.
It won't be easy and at times you may want to give up, but always persevere. You will be the winner in the end.
Q: Would you do it all again?
A: I have say a most resounding "YES"!
Of course, I would do it again. Personally, I feel re-invigorated and my heart is full to think that we will make a difference in the lives of the many abandoned pets.
Frankie the Dog Crowdfunding Campaign URL:
Blogger's note:
I rescued my kitty from the Dawsonville Humane Society and she has brought so much light to our lives. She was however, not impressed that Frankie came for a visit though he was a complete gentleman!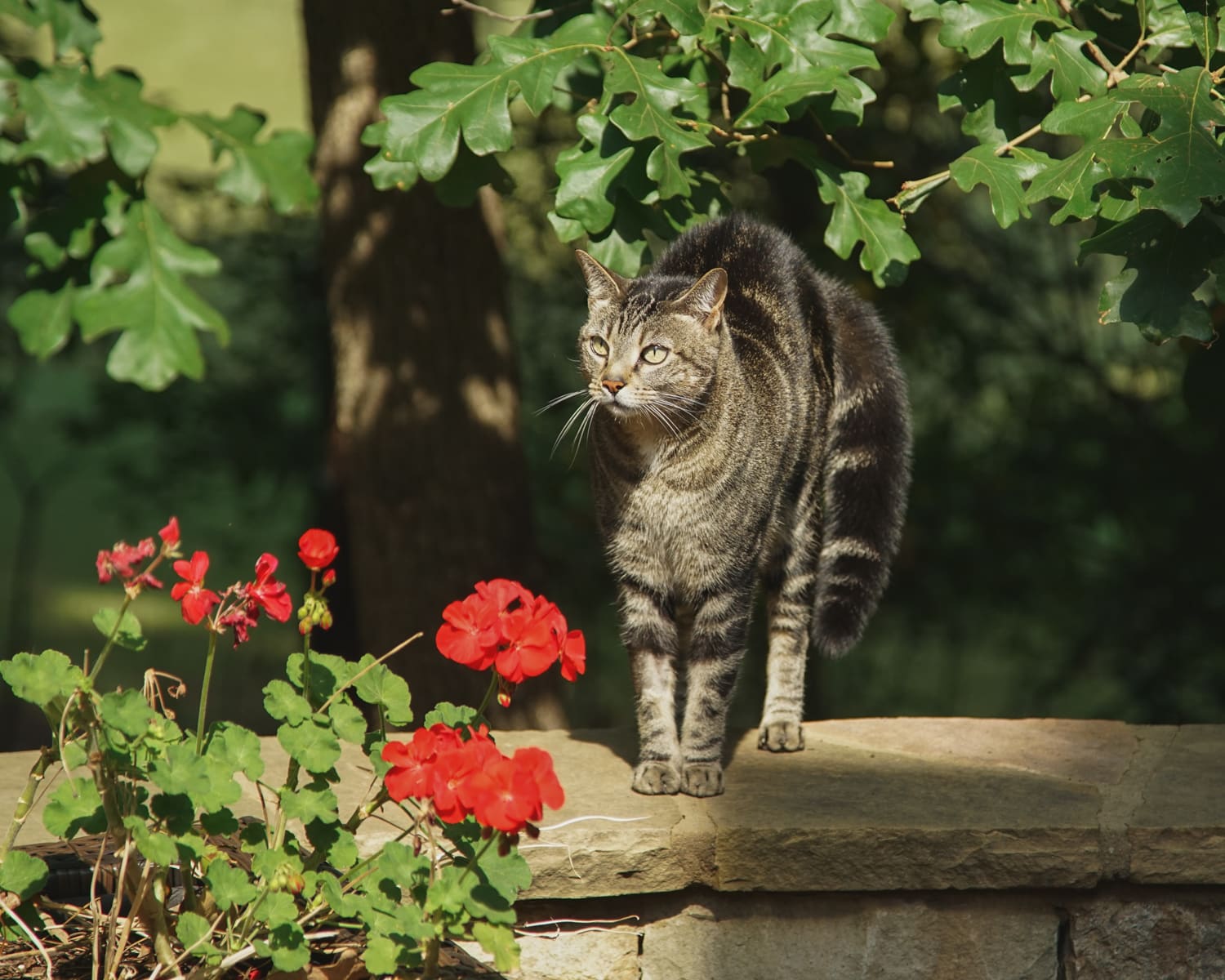 Photos Copyright Andrea Ferenchik 2016 unless otherwise noted.