Meet Sue B. Zimmerman
I wanted to introduce you to an AMAZING woman and entrepreneur, Sue B. Zimmerman. I have followed Sue B. for several years now. I first saw her when she taught an Instagram class on Creative Live. Teaching on Creative Live is a bucket list item of mine. It's one of those goals that feels so far out there, I have no idea how I would get from here to there. Just saying it feels almost ridiculous. But she did it!  I didn't have a clue that just seven years ago she was teaching women how to use social media around her kitchen table. I saw a throwback she posted on Facebook and I was intrigued to say the least!
Recently, I had the opportunity to meet her IRL (in real life) when I attended her SBZ B-School Retreat in downtown Boston. Over the past seven years, she quite literally quit her day job running a boutique on Cape Cod. She now runs a wildly successful (I'm talking blow you away successful!) business with a team of seven talented marketers.  She speaks as #theinstagramexpert at conferences around the world. After super-stalking her Facebook page, I know that she's accomplished this amazing success after turning 50! Ladies, this should be an inspiration to us all. That's why I wanted her to tell her story, in her own words, below. This momma, quit her day job and reinvented herself to become The Instagram Expert. Enjoy!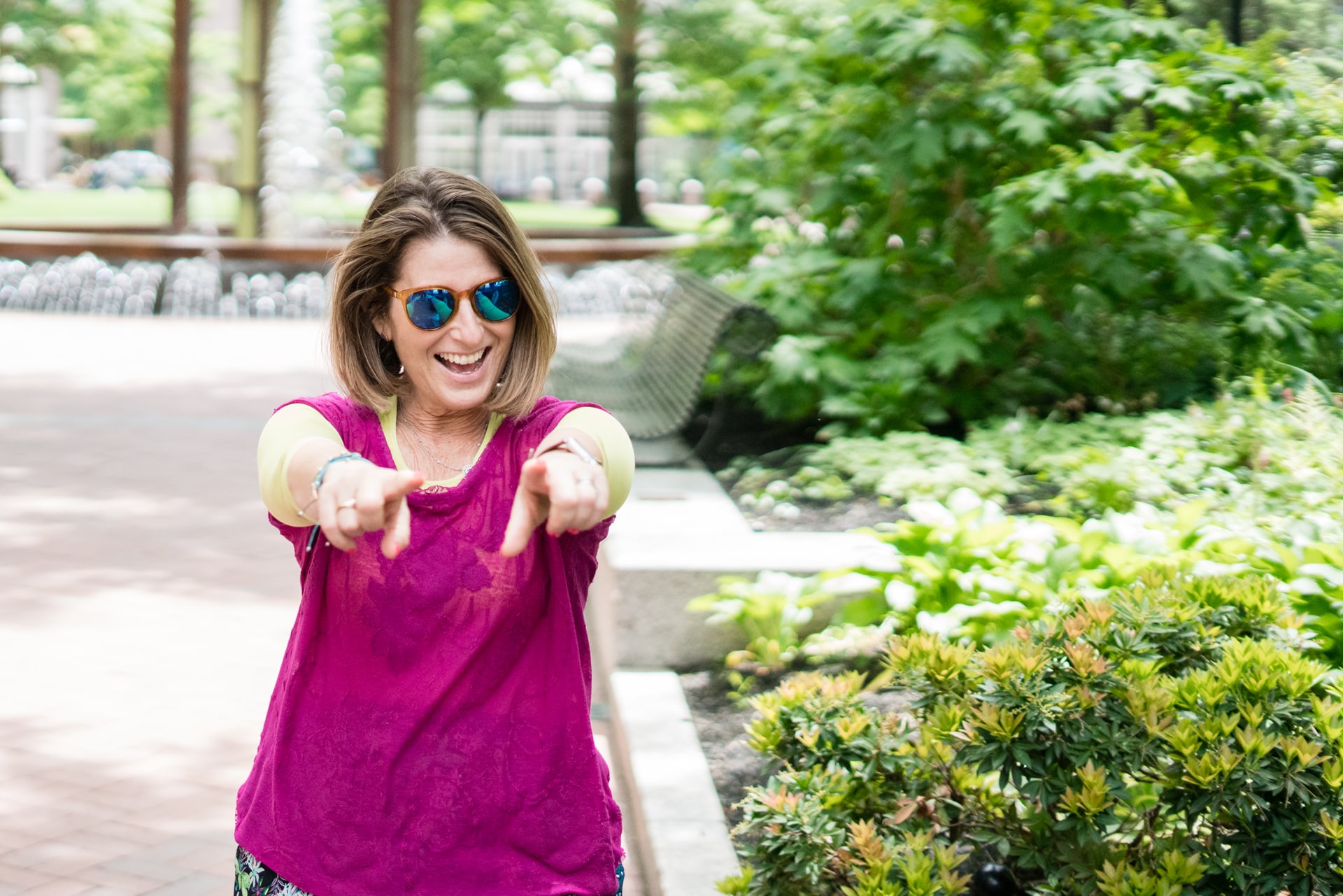 P.S. She also shares an affinity to super-expression when she sees a camera which, of course, I love.
Q: Tell me about yourself
A: I have a wonderful, supportive husband and three fiercely independent daughters.  I met my husband Roger when I was thirteen years old at summer camp…we were wearing the same tennis shirt.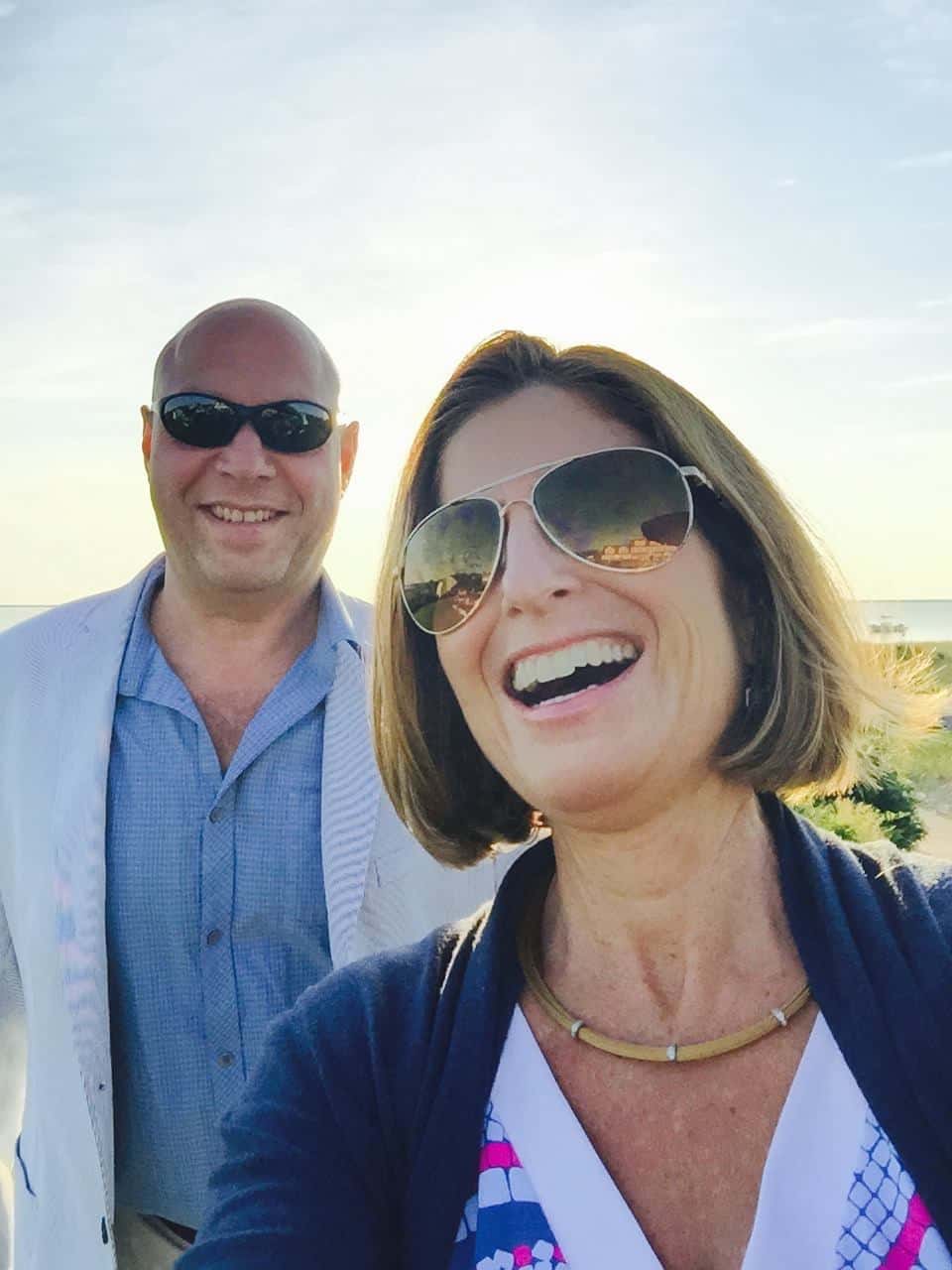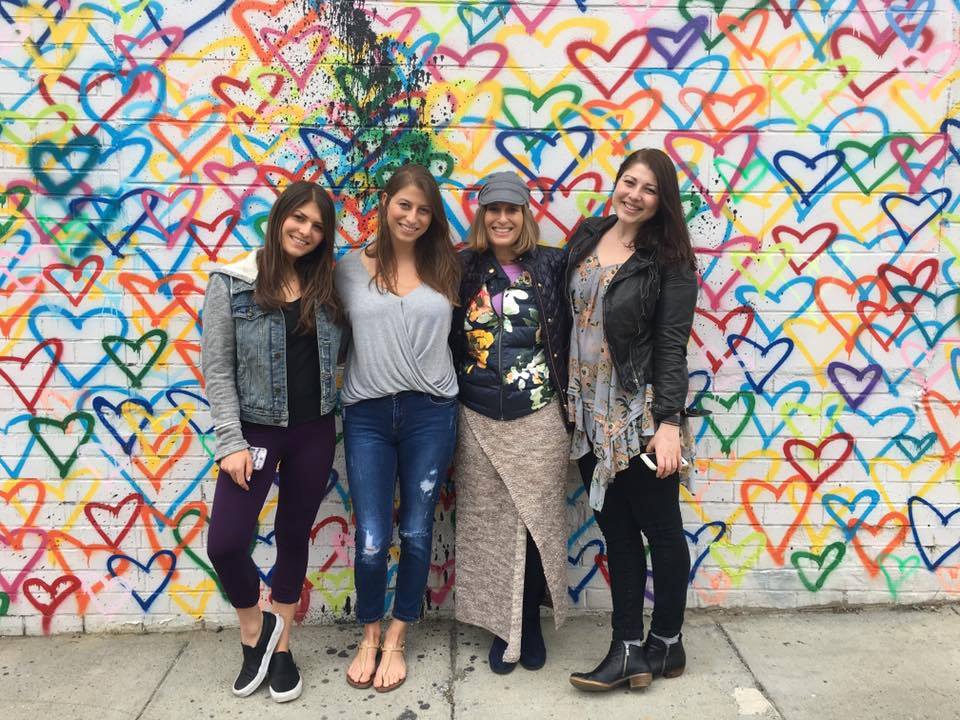 I love to workout, especially rollerblade along the shore on Cape Cod in the summer. Â I also love crafting. Â When my daughters were younger I taught art classes in my home. Over ten years ago I taught scrapbooking and even taught on QVC. Painting rocks and shells is one of my favorite hobbies.
Above all, I like to travel and see the world. Â Taking online relationships offline and meeting in person is a true luxury.
I've been creatively doing what I love for over 35 years.  I had my first business hand painting barrettes when I was thirteen years old. I was not allowed to be selling at recess, but I did, and it validated my craft.
Lesson Learned – Be a rule breaker. It helped build confidence and brought me to the next opportunity.
Q: What led you to do what you are doing today?
I was using Instagram to bring customers into my seasonal store on Cape Cod. This was an eye opener when customers came in asking for what they saw us post on Instagram. This became a BIG light bulb moment – I was using Facebook, Twitter & Foursquare to market my store, but NOTHING worked as quickly as Instagram. Sooooooo, I decided to teach other business owners how to use Instagram to market their businesses. I started by doing local workshops, spoke at local events, got interviewed on podcasts and I was in the zone. My brain thinks visually, and Instagram became my happy place…so much creativity, inspiration and information.
I closed my store after six years. I went all in and took my business online. I realized what I loved more than anything was teaching and helping others make money doing what they love.
Lesson Learned- Follow your gut. Â Go where your heart is happy!
Seven years ago Sue B. was teaching classes on social media in her community and around her kitchen table!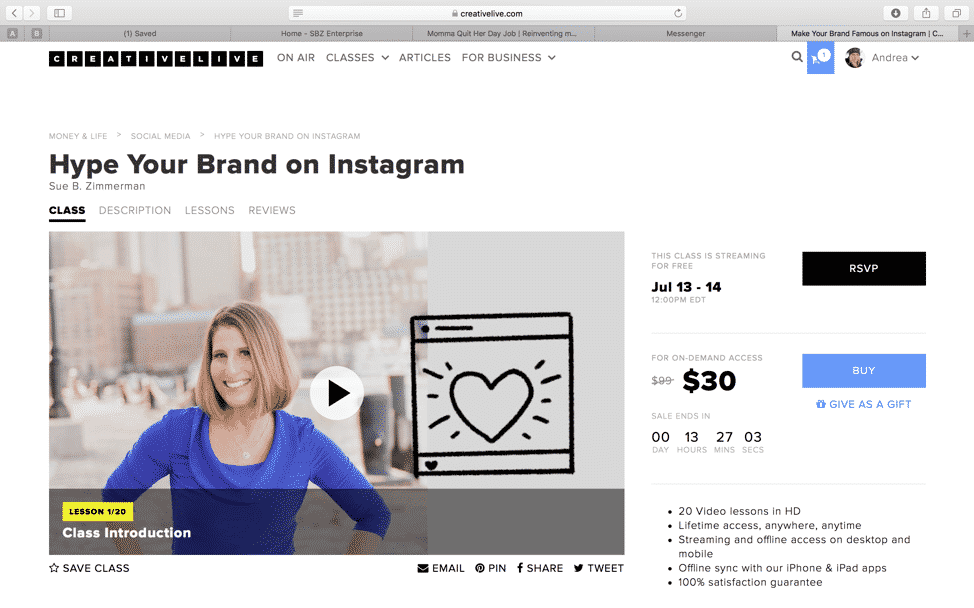 Today, Sue B. is a top Instagram educator on Creative Live.
What are your goals?​​​​
To help women, passionate business owners, entrepreneurs and creatives get more visibility online so that they can share their brand to reach the right target market using Instagram.
Are there specific goals you want to achieve, or do you do this purely for the satisfaction it brings?
I am all about being a lifelong learner. I am constantly improving my leadership skills. I want to grow this business with my amazing team and really make a difference in the world helping others have the success they dream of.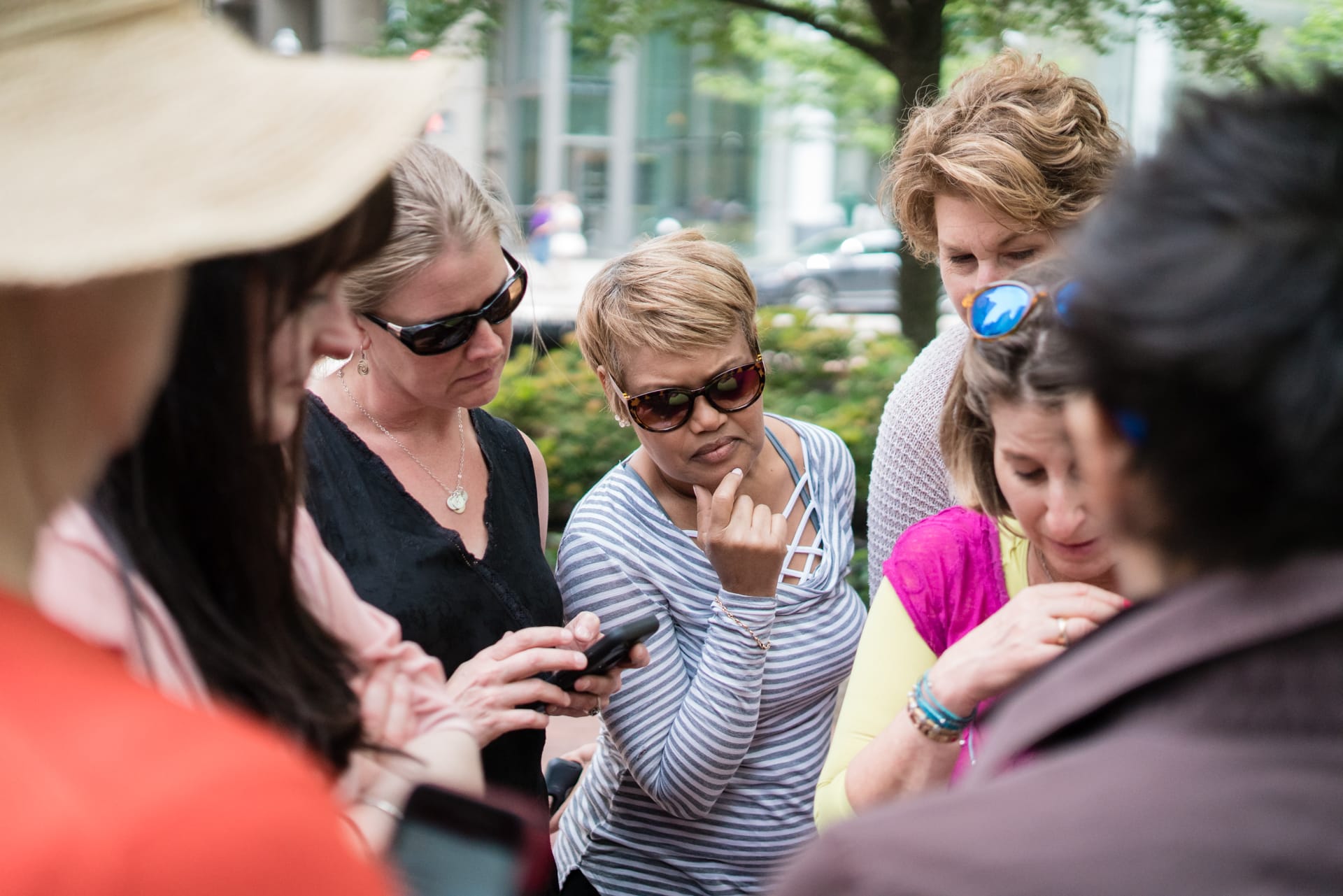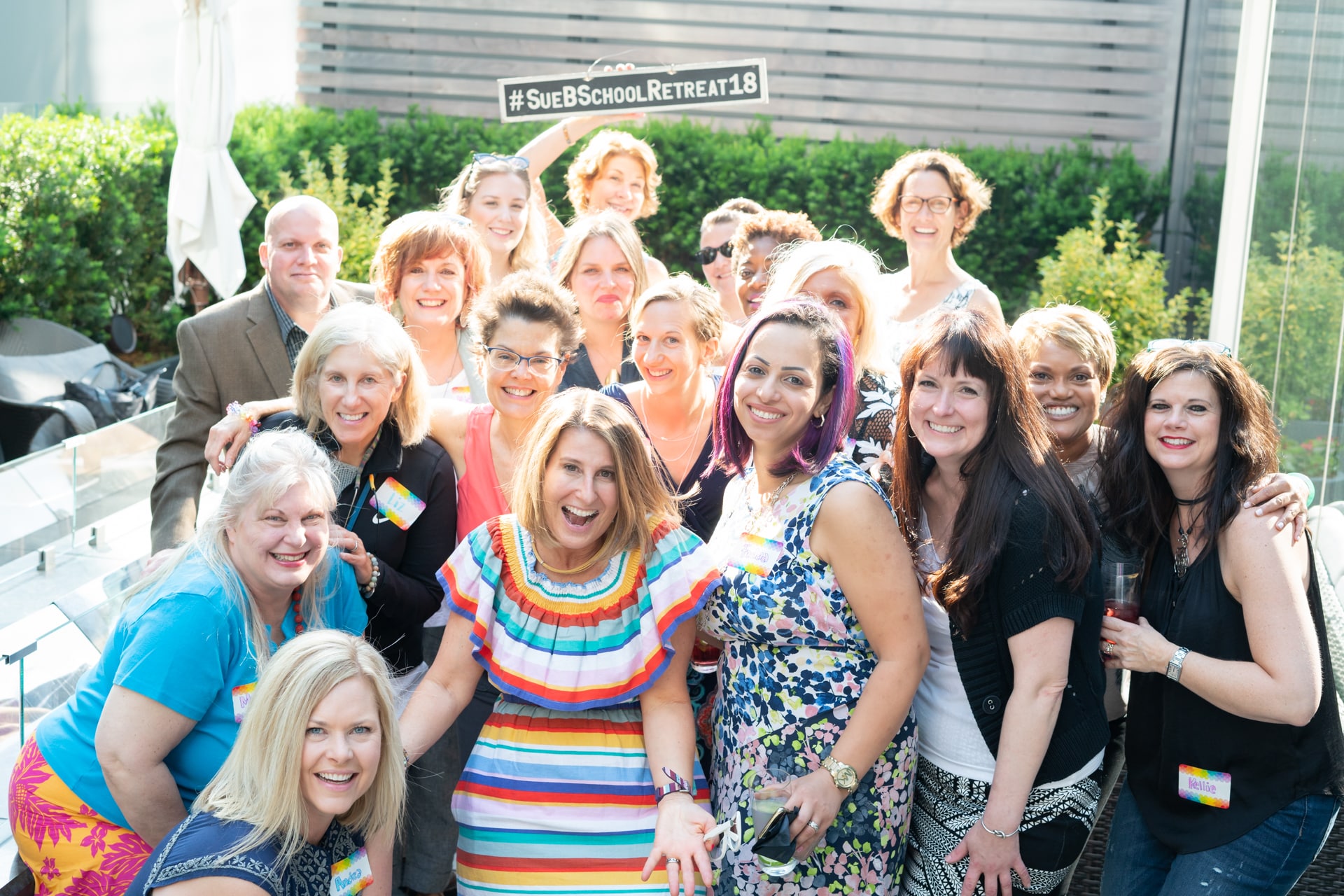 Sue B. showing us Instagram strategy while exploring downtown Boston.
What have you learned from the process of reinventing yourself?
It takes a #SHITTON of hustle, heart and drive to get what you want. Â I always check in with myself to make sure I am enjoying what I am doing. In fact, Morgan, my COO, checks in with me and asks me if I like what I am doing and if there is anything else I want to be doing.
What advice do you have for other women who are considering a change?
DO YOU! Â Embrace your unique self – everything – your gray hair, wrinkles, voice and fucking own it! Â When you confidently show up as yourself others will fall in love with your gifts, your products and your services.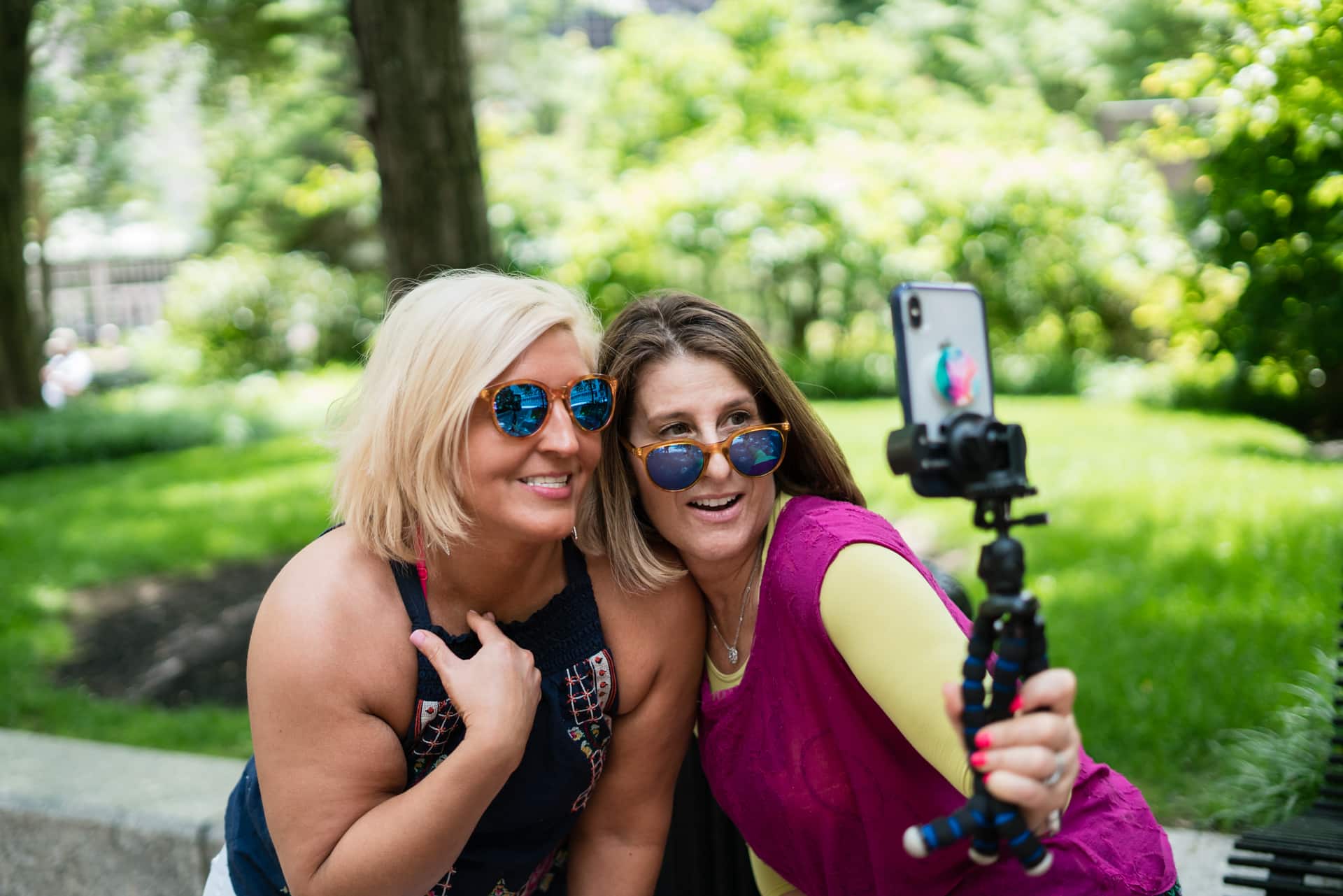 Sue B. doing an Instagram Live stream with her students in downtown Boston.
How have you dealt with obstacles and setbacks?
I like to reflect on them as life lessons. Â  Live and learn – move on! Â Being an entrepreneur is a journey and I love the ride. Â  I had my first business at thirteen years old and I have had seventeen after that. Â Being the leading Instagram educator is business #18 and I am in my genius zone. When you have a setback, bounce back and keep the ball rolling – it gets you to the next opportunity.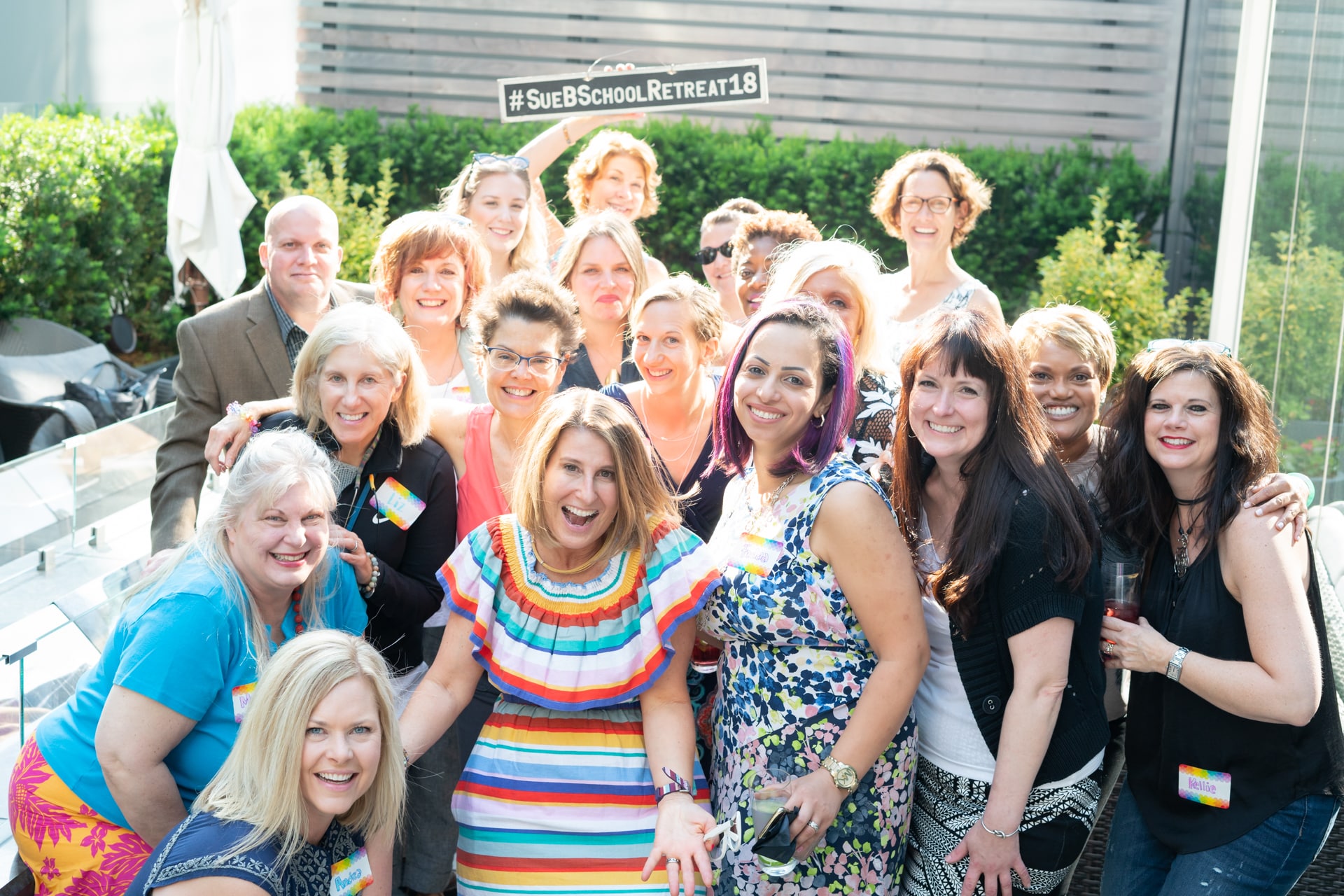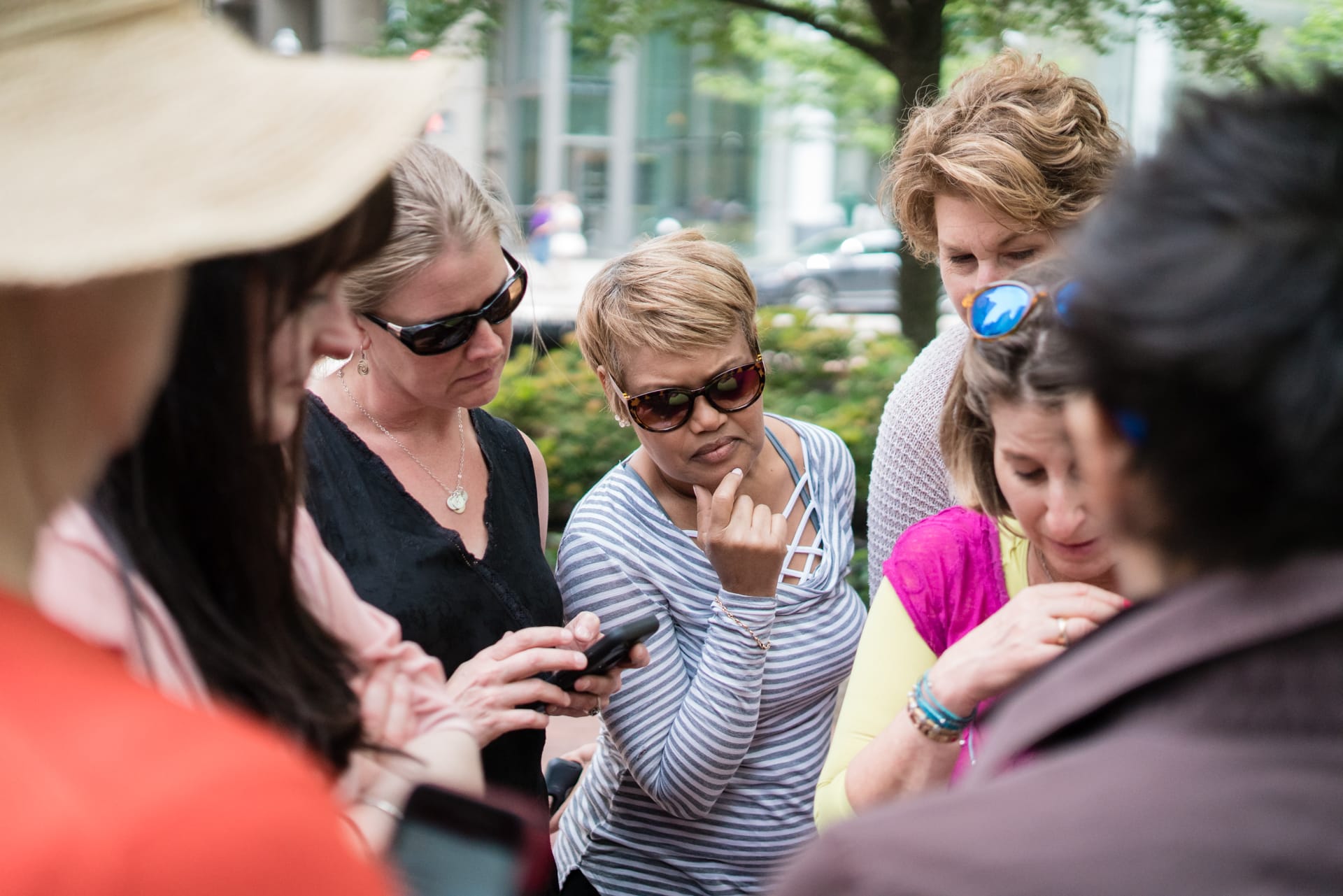 Sue B. with her students at the SBZ B-School Retreat in downtown Boston.
Would you do it all again?
Absofucklinglutely!
Each business has taken me to where I am today. Â Without the building blocks of each one – I think I would have stumbled more.
There is no such thing as instant success. Â Show up consistently, do the work, make an impact, be kind and help others. Â Success and happiness will follow… I am living proof. xo
You can follow Sue B. at the following: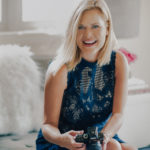 About Andrea
Andrea is a personal branding photographer who helps female entrepreneurs, and small business owners bring their brand to life. She is based in Cumming, Georgia but you can find her shooting from coast to coast.